Players have had trouble meeting the second requirement for quest shown below, which you can get as early as Campaign Day 3.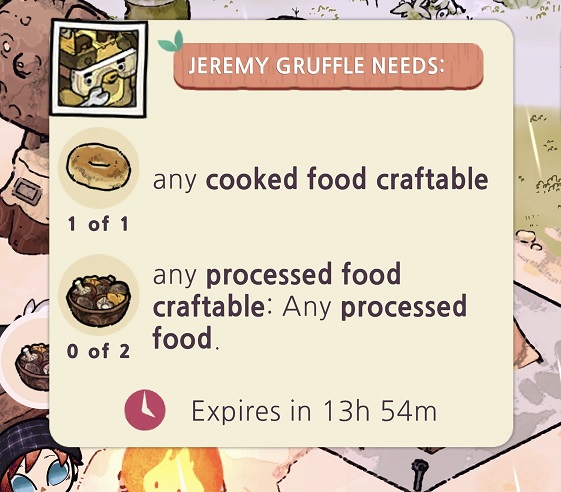 There are actually two bugs affecting the second requirement. We have fixed these internally (I think in version 1.5.2, but don't quote me on that) but it may be a while before you receive the fixes. These bugs are just textual/graphical--the quest can still be completed on any version of the game if you know what to turn in.
The text is goofed up. What the fixed version says is "any craftable processed food".

Craftable = Made by any Bear
Processed = Has the "processed" tag. You can see tags in the food's info panel.


The graphic is incorrectly that of Roasted Mushrooms, which don't actually satisfy the Craftable part of the requirement. (Roasted Mushrooms are made simply by burning a mushroom at Flamey, without involving any bears.)
To summarize, the second requirement is food made by (Baker) Bear, that happens to have the Processed tag. If you have such food, you can complete this quest!
If you happen to find such food or ingredients on the ground or in the mail, those can be used even if Baker Bear was not involved. The restriction is on the kind of food you can turn in, not on how you happened to obtain the food.