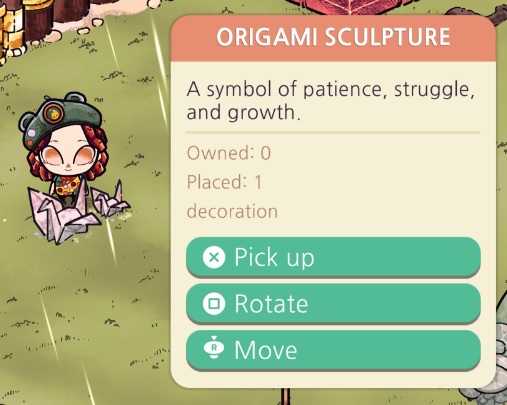 Party Bear will ask for this in his 32nd milestone.
Shy Bear gives this to you in her 28th and final milestone. I.e., if she has ascended then you should have received it, but if she hasn't yet ascended then you haven't yet received it.

Depending on how quickly you've completed Party Bear's milestones versus Shy Bear's milestones, you may receive it long before it's asked for, or vice versa. Most players will probably get it long before Party Bear asks for it.
It's common that players who received the Origami Sculpture long before Party Bear asks for it have unwittingly put it on the ground or in some manner of storage and lost track of it (which is reasonable—it kind of seems like a normal decoration). If you've done this, there is currently no mechanism in the game to help you find it—it's not a hidden object so Ranger Bear can't give a hint for it, and it's not a tool so the Tool Finder also can't help you find it.
I found the Origami Sculpture but there's no option to pick it up!
In the area around Shy Bear are some origami birds that look exactly like the Origami Sculpture but are actually just part of the scenery. These are NOT the ones you need to pick up. Please continue looking for the actual Origami Sculpture decoration.
I think I may have sold the Origami Sculpture
Don't worry, you probably didn't sell it. The Origami Sculpture is supposed to be unsellable, so unless you managed to find a glitch that let you sell it, that's not what happened.