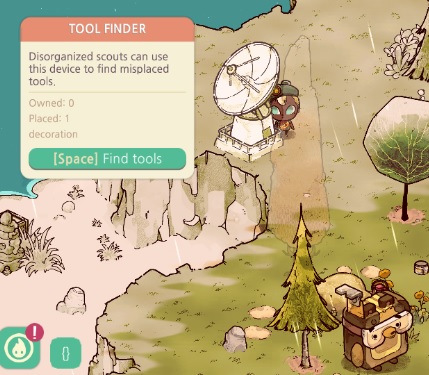 The Tool Finder is a feature added in version 5.1.0. We were often contacted by players who couldn't remember where (storage, backpack, chest) they'd left a particular tool. The Tool Finder is our way of helping players with this problem.
Location of the Tool Finder
The Tool Finder is a special satellite dish located slightly northwest of Maker Bear's area. (Despite what the screenshot above shows, it will likely be more west than north of Maker Bear—Maker Bear in the screenshot has wandered to the far western side of his area.)
There is a known bug where the Tool Finder won't appear in some save files. We don't have a workaround at this time.
Only this particular satellite dish will tell you the locations of your tools. There are other obtainable satellite dish decorations that look identical but they're just normal decorations.
How to use the Tool Finder
"Talk" to the the Tool Finder and use the Find Tools command in the info panel. A screen will come up listing the location of every tool that the game thinks you own. Hopefully your lost tool will be in the list and you can look in the relevant location to find it.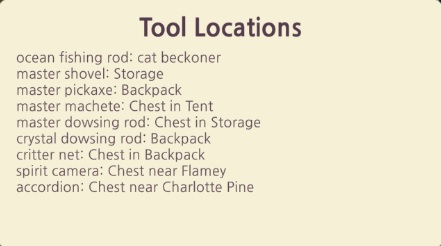 (Of course, the better case is that you always put your tools back in the same place so you know where to find them!)