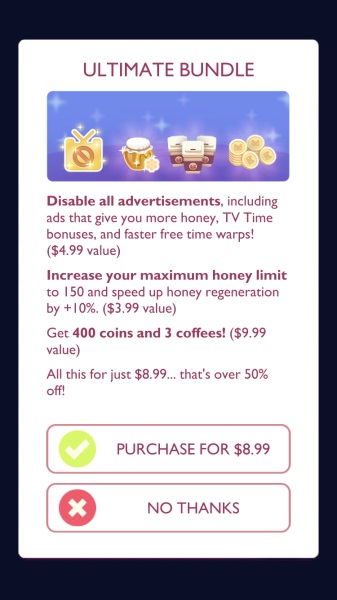 Note: The screenshot above was taken from a particular app market in a particular geography at a particular point in time. That may not be the price appropriate to your situation. Please pay careful attention to the price as displayed on your device when you're going through the purchasing process since that's what you'll be charged.
Q: What's in the Ultimate Bundle IAP?
A: The Ultimate Bundle IAP is a way to get these things for a lower price than you'd pay to get them separately:
The Honey Maximizer feature
400 coins
3 coffees
Q: Does the Ultimate Bundle stack with the Honey Maximizer?
A: They don't stack. There's one Honey Maximizer feature, and purchasing it either directly or through the Ultimate Bundle turns it on, but purchasing it both ways doesn't give more benefit than just purchasing it one way.
Q: Does the Ultimate Bundle give me more honey immediately?
A: No, it doesn't. Via the Honey Maximizer feature your honey will recharge faster and the cap at which honey stops recharging will now be 150 instead of 100, but it doesn't give you more honey immediately.