Q: I'm getting the following error when trying to make a purchase: ". Can't perform operation: launchPurchaseFlow"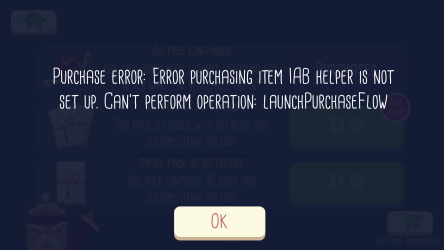 A: One possible cause of this error is if your device doesn't have a Google account set up. To check if this is the case:
Open the "Settings" app. (Not "Google Settings", just "Settings".)
Open the section "Users & accounts" or something similar.
Several accounts might be listed. E.g., I see my Facebook and Twitter accounts in addition to my Google account.

If there's no Google account listed, that's a problem. Tap "Add account" and add your Google account. After you do so, return to the game and attempt the purchase again.