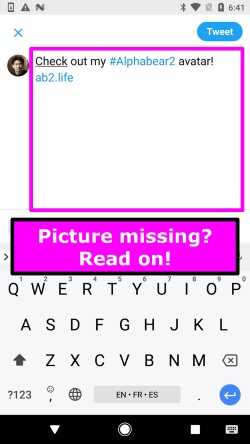 If you're using an Android device, it could be the case that you have not given Twitter the required permissions. In order to share your picture, Twitter apparently needs the Photos/Media/Files permission. However, if you try to Share your picture to Twitter before granting that permission, the tweet that is composed will contain only text and not the picture. Twitter won't ask at that time if you want to give that permission; it just assumes that you don't and composes your tweet with only text.
So how do I fix it?
To enable that permission, please try doing the following:
Cancel the tweet that contains only words.
Launch your Twitter app.
From the home screen, tap the button that lets you compose a new tweet.

Tap the button that lets you insert a picture into your tweet.

You should be asked here for the permission. Tap the button that grants it.

Return to Alphabear 2 and try to share a Tweet again. This time both the picture and the text should be populated.